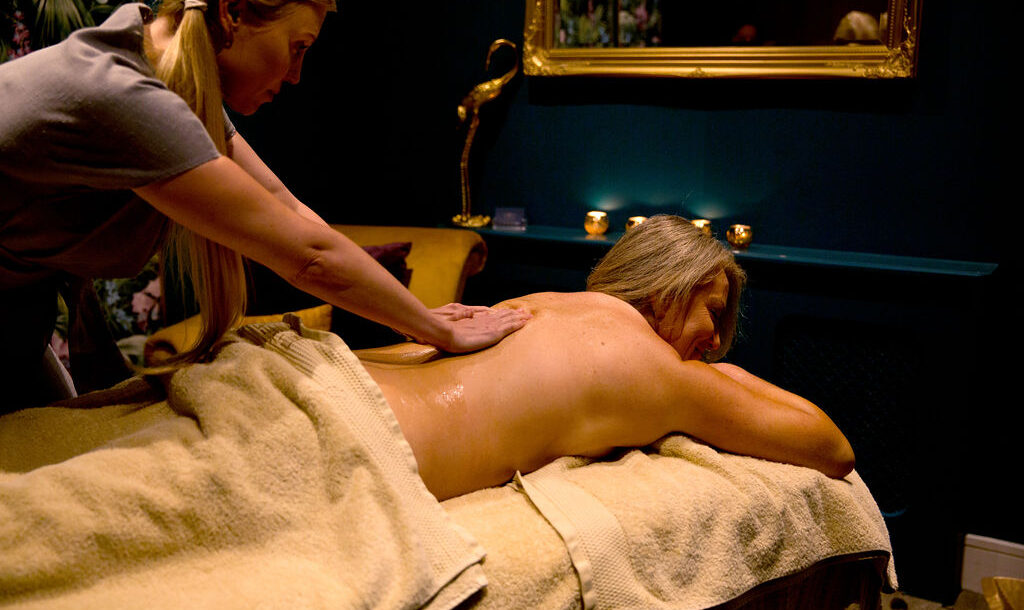 Elemis Well-Being Back Massage
20 mins…£25.00
30 mins…£35.00
45 mins…£45.00
The benefits of a professional Elemis back massage can never be underestimated. This area so often carries our stresses and tensions, resulting in stiffness aches and pains. Our Elemis Aromatherapy back massages are tailored to suit your individual needs, working to relieve and relax the muscles.
Elemis Well-being Full Body Massage
Experience the wonderfully relaxing benefits of an Elemis full body massage that is tailored to suit your individual needs. Elemis aromatherapy oils will be selected to address your concerns, whilst massage pressure and techniques are adapted to achieve the desired results needed.
Elemis Face & Scalp Massage
Induce a deep state of relaxation, drift away in sheer bliss. Using specialised eastern massage techniques to bring nourishment to the skin, stimulate circulation, and drain away toxins.
Elemis Peaceful Pregnancy Massage
This unique pregnancy massage is profoundly nurturing and tranquil, perfect for hydrating and moisturising skin that is expanding to accommodate a growing baby. Mothers-to-be are completely supported during this comforting massage, encouraging a deep level of relaxation during this special time.
Eden Equilibrium Signature Massage
Rebalance mind & body with Eden's unique signature massage. This relaxing therapy focuses on the key stress areas of the body, working to unlock tension in the feet, back, neck, shoulders and scalp, leaving you feeling utterly rejuvenated.
Eden Ritual Signature Full Body Massage
Exclusive to Eden!
Eden's ever-popular Eden Ritual has been designed to induce the deepest levels of relaxation and embrace the senses. Warm oils are luxuriously drizzled over the entire body then massaged into the skin using a rhythmic Hawaiian Lomi Lomi massage technique. This blissful experience is complete with a hypnotic face and scalp massage.
This revolutionary and unique full body massage for women and men uses naturally self warming Tiger Clam Shells to deliver a seamless treatment tailored to suit your individual needs. The warm smooth shells are expertly glided over the body with varying pressures, techniques and precision enabling the therapist to reach the deepest aches and pains alleviating all stress and tension. Hydrating oils are used during the treatment to moisturise the skin as the warming energy of the shells helps to revitalise and rebalance the body and mind.
Other Treatments That You May Be Interested In