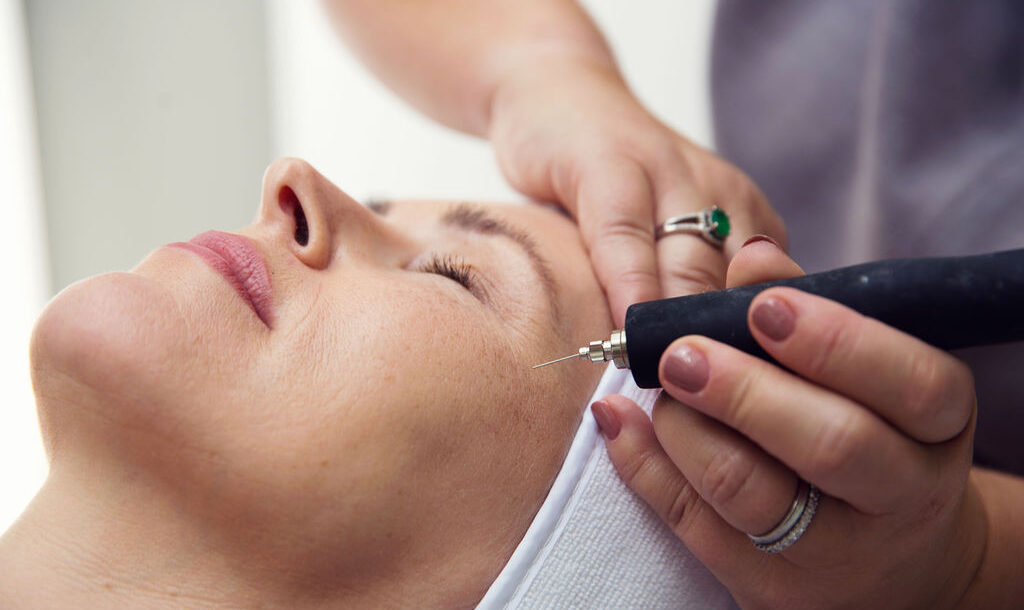 Accor is the world's first low frequency and technology plasma pen, which means less treatment is needed with faster healing time. Developed and designed by a German doctor, Accor has now manufactured its 3rd generation of plasma pen so that you can be completely confident you are receiving the best plasma treatment on the market.
The Accor hand held device emits a small electrical arc from its tip without actually touching the skin. This is called a plasma arc, which then vaporises the skin to the basel layer, causing an immediate tightening affect to the surrounding skin. The small dots then form scabs that fall off over the following ten days revealing a smoother tighter skin. A full consultation and patch test is carried out one week prior to your treatment. On the day of your treatment a topical anaesthetic cream is applied forty five minutes prior to treatment. The treatment takes approximately twenty five minutes, once the treatment is completed we provide aftercare advise and products to maximise the healing process, a follow up appointment will then be made so that we can monitor results.
On average 2-3 treatments are needed. A three month period is always recommended before re-treating the same area. Once the desired result has been achieved the treatment does not need repeating for 2-5 years.
To learn more about the Accor Plasma Pen treatments, email the Eden team on info@edenbeautyandaesthetics.co.uk, call us on 01702 480773, or message us on Instagram or Facebook.
Gabella…£199.00
Forehead…£199.00
Gabella with Forehead…£299.00
Crow's Feet…£249.00
Upper Eye Lift Including Crow's Feet…£350.00
Lower eye lift including crows feet…£350.00
Upper lip…£199.00
Chin…£199.00
Lip & Chin…£299.00
Nasolabial Folds Including Upper Lip…£350.00
Jaw Line Lift…£350.00
Neck Lift…£399.00
Jaw Line Lift with Neck Lift…£499.00
Other Treatments That You May Be Interested In